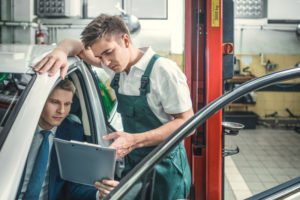 When you are buying a new vehicle, you will get a logbook as a part of the delivery package. You will find all vital information pertaining to the vehicle inspection points, servicing procedures and servicing intervals in this booklet. Following the guidelines given in this booklet is necessary for the safe operation of the vehicle. By doing so, you can avoid unnecessary repair cost and poor performance of your vehicle. Here at Buraq Automotive, we have a team of factory-trained mechanics who can complete your logbook services without voiding your vehicle's statutory warranty.
What Does Our Logbook Service Include?
When you bring in your vehicle to our auto repair centre in Dandenong South for logbook service, you can expect the following services.
Suspension checks
Steering component checks
Clutch System inspection
Fuel system flushes
Engine Flushes
Lubrication and Filter changes
Belt adjustments
Lighting and electrical system checks
Coolant /Cooling system inspections
Tyre pressure and wear checks
After inspecting all these components, we will fill in the details of car repair works performed on your vehicle in your logbook and get it stamped.
Why Choose Us for Your Next Logbook Service?
Getting logbook services done in a timely fashion not only extends the life of the car but also preserves its resale value as well as its manufacturer warranty. When you choose us for your logbook service, you can enjoy the following benefits.
Factory-recommended guidelines are strictly followed when working on your vehicle.
Trained and qualified mechanics will be assigned to perform logbook service.
Our mechanics remain up to date on advanced vehicle technologies.
Original auto parts from leading brands are used to meet stringent quality standards.
Logbook service is conducted in accordance with the manufacturer's requirements.
Your log book will be stamped every time to protect statutory warranty.
Simply driving your car without regular maintenance will decrease its value considerably. So, give us a call on 03 9792 9803 and schedule an appointment for logbook service.