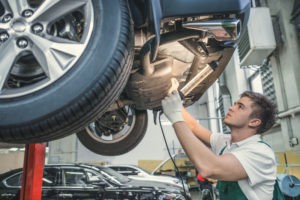 To keep your vehicle in top condition, regular car service and maintenance is key. Buraq Automotive is a full-service auto repair shop that has been providing car service and repairs to vehicle owners across Dandenong South and the surrounding suburbs. We have got a team of car mechanics who are trained to work on all makes and models of domestic and foreign vehicles.
Car Service:
To maximise the life and performance of your vehicle, there are certain items that you must check on a regular basis. Periodic inspection of your vehicle helps you understand what needs to be done to keep it running efficiently and avoid expensive repairs down the road. When you bring in your vehicle to our auto repair centre for car service, we will inspect the following parts, components and fluids:
Oil & filter
Coolant fluid exchange
Air filters
Tyre pressure, rotation & tread depth
Wheel alignment
Brake & clutch
Headlights, parking lights & turn signals
Engine spark plugs
Battery performance check
Much more
After inspecting all these components, we will recommend repair and replacement based on their conditions. If you want to prevent the time you spend in an auto repair shop, be sure to have an eye on all these automotive components.
Car Repairs:
Maybe you have noticed that your car does not perform as it used to be or have a check-engine light on your dashboard warning you that something has gone wrong with your vehicle. In either case, we can help. With decades of experience in the automotive industry, we can provide quick solutions for all your auto repair needs.
At Buraq Automotive, we can help you with
Engine repairs & rebuilding
Clutch repairs
Tyre service
Transmission repairs
Suspension repairs
Auto electrical repairs
Equipped with state of the art diagnostic tools and advanced automotive technologies, we can sort out and fix the problem with your vehicle in the shortest possible time. When we work on your vehicle, we will adhere to the manufacturer's guidelines to upkeep its integrity, value and statutory warranty.
So, the next time when you get stranded on the road, give us a call on 03 9792 9803 for quick repairs. Let's get you back on the road as soon as we can.