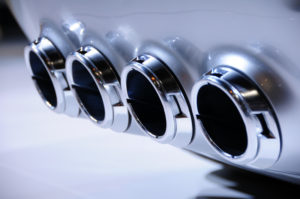 The exhaust system of your vehicle makes your engine running correctly and keeps the toxic fumes out of your car cabin. In addition, it provides the best possible fuel efficiency to your vehicle and eliminates smoke that pollutes the air. If your exhaust system is damaged or worn out, it may affect the performance and fuel efficiency of your vehicle. In that case, you can count on Buraq Automotive for exhaust repair and replacement services. Backed by years of experience and professional training engine rebuild under our belts, we can carry out exhaust repair and replacement on domestic and foreign vehicles of all makes and models.
When Does Your Car Need Exhaust System Repair Or Replacement?
The lifespan of a car's exhaust system can vary. The exhaust system in today's vehicles is made with high-quality steel that can last for about five years. However, there are some signs that you must look out for to determine whether you need a new exhaust system or not.
Hissing or tapping sound caused by a faulty exhaust manifold gasket
Poor performance of your engine
Decreased power and acceleration
Decreased fuel efficiency
Burning smell coming from the engine bay
Water leaking from the head gasket
Excessive black, blue or white smoke coming from the exhaust system
Gas smell inside your car
At Buraq Automotive, we have the latest diagnostic tools and state of the art equipment to provide our Dandenong South customers with the best exhaust servicing, exhaust repairs, exhaust replacement and exhaust fitting service. Our mechanics carry out the work in compliance with manufacturer's guidelines and complete it to the highest possible standard.
Damage to the exhaust system not only gives you an uncomfortable feel while driving your car, but also increases the CO2 emissions and noise levels than the legal requirements. In order to save yourself from all these hassles, get your car's exhaust system inspected on a regular basis.
For more information on car exhaust repairs, we invite you to call 03 9792 9803 and talk to one of our experienced mechanics today.