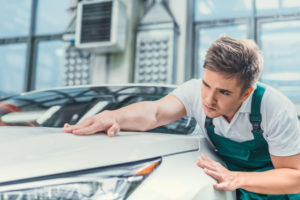 The failures of catastrophic engines can be avoided through regular service and maintenance. In most cases, the failure of internal components is caused by broken oil pump and overheating conditions, resulting in a non-operable car that requires engine rebuild or engine replacement. Engine rebuild is a cost-effective alternative to new engine replacement. Here at Buraq Automotive, we have certified mechanics who are capable of rebuilding engines for vehicles of all makes and models. With the extensive availability of parts and high-quality equipment, rebuilding an engine is no more a big task.
But, What Actually Is Engine Rebuild?
Engine rebuild involves taking out the engine from the vehicle and then disassembling it completely from 'injector to pan'. After disassembled, it is cleaned and inspected to determine its condition. Following this, we will replace all the damaged parts with refurbished or new replacement parts.
Components Replaced:
The most common components that we replace during engine rebuild are bearings, O rings, gaskets, seals, chain, timing belt, lubricants, oil pump and valve springs. We replace major parts such as crankshafts, pistons and camshafts only when needed. All the parts, components and lubricants used in the engine rebuilding process are of OEM standards, so you don't have to worry about the integrity of your vehicle.
If your engine sustains severe damages, we will bore the engine block to align it with the main bores of crankshaft. Likewise, the cylinders are also bored to align new pistons. While it involves more extensive work, we are ready to do it to make your engine work again.
Call Us For A Quote:
If you notice excessive amounts of smoke coming from the tailpipe, loud knocking noise from under the hood, decreased fuel efficiency or lack in performance of your vehicle, it is obvious that your car's engine is in trouble. At Buraq Automotive, we can rebuild your engine in the best possible manner and reverse any problem you may have. To request an appointment and a free, no-obligation quote, you can give us a call on 03 9792 9803.