If you are in need of car service in Springvale, Buraq Automotive may be your number one choice. With a team of skilled car mechanics, latest automotive technologies and a modern approach to car repairs, we have been providing a full range of auto repair solutions to the vehicle owners across Springvale and the surrounding suburbs.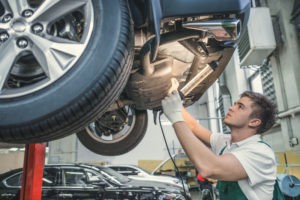 We Can Help You With:
Car Repairs & Logbook Service Springvale:
From a factory-scheduled logbook service to unexpected automotive problems, our team of mechanics is always on hand to assist with repairing your vehicle. Whether there is an oil leak or you need replacement parts, we will get the job done in no time.
Engine Rebuild Springvale:
Having worked on all makes and models, our car mechanics have built an unrivalled reputation for providing reliable yet cost-effective engine rebuilding & reconditioning services to our Springvale customers.
Brake & Clutch Repairs Springvale:
We have lots of experience in diagnosing and repairing brake and clutch problems on cars, vans, trucks, trailers and caravans of all makes and models. We have a specialist team who can offer the best in brake & clutch repairs.
Car Exhaust Repairs Springvale:
Do you hear a strange noise coming from under-the-hood? Or extensive smoke released from your tail pipe? If so, it may be the time for car exhaust repairs. We carry out a complete inspection of your exhaust system to determine the problem and get it fixed in a professional manner.
Aircon Regas & Repairs Springvale:
If you have an issue with your vehicle's aircon regas system or need re-gassing, you can entrust the job to our technicians who can get to the bottom of the issue and fix it right away. We will inspect your air-con unit, sort out the problem and offer a quick solution, letting you travel comfortably.
If your vehicle is due for scheduled maintenance or it has to be repaired, give Buraq Automotive a call on 03 9792 9803. Let's resolve the problem and get you back on the road quickly.