For quality car repairs and maintenance service in Springvale South, trust the experts at Buraq Automotive. With many years of experience in the auto repair industry and state of the art diagnostic tools, our car mechanics have been providing accurate diagnosis and reliable car service to the drivers across Springvale South and the surrounding suburbs at the most competitive prices.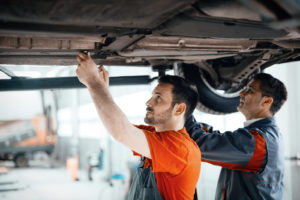 We Can Help You With:
Car Repairs & Logbook Service Springvale South:
If your car is brand new and is backed by a warranty, you must strictly follow the service interval recommended by the manufacturer. Our team of accredited car mechanics can perform logbook service as per the factory guidelines and help protecting its statutory warranty.
Engine Rebuild Springvale South:
Buraq Automotive guarantees to have your vehicle's engine professional reconditioned and get it back on the road in no time. Our expert mechanics specialised in providing engine rebuild and reconditioning services for vehicles of all makes and models.
Brake & Clutch Repairs Springvale South:
Whether you are driving locally or along the highways, you want your vehicle's brake system to be in good working order. In case you suspect anything wrong with these safety components, you can count on our mechanics for brake & clutch repairs.
Car Exhaust Repairs Springvale South:
Broken or failing exhaust system can cause a range of expensive problems in your vehicle. No matter what type of vehicle you own, the mechanics at Buraq Automotive will be able to diagnose the problem and perform car exhaust repairs to the highest standard.
Aircon Regas & Repairs Springvale South:
Like other automotive parts, air conditioning repairs system also needs regular maintenance and servicing. We have air conditioning experts who are trained to offer a full range of services including aircon regas, aircon repairs, aircon maintenance, aircon leak test and much more.
To minimise inconvenience and avoid unexpected breakdown of your car, don't hesitate to call Buraq Automotive on 03 9792 9803 and schedule an appointment for car maintenance service today.