When something goes wrong with your vehicle, one of the biggest concerns could be finding the right auto repair centre. If you are based in Noble Park, you are lucky that Buraq Automotive has been serving vehicle owners across Noble Park with their car service needs. From regular maintenance to unexpected car repairs, our qualified car mechanics can handle it all.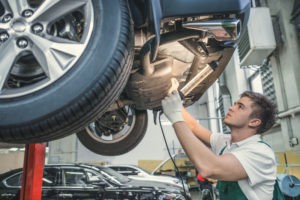 We Can Help You With:
Car Repairs & Logbook Service Noble Park:
Not maintaining a vehicle as per manufacturer's recommendation can result in denied warranty. To preserve the statutory warranty, integrity and the value of your vehicle, you can opt for our logbook service.
Engine Rebuild Noble Park:
If you notice any decline in the performance of your vehicle, why not bring in your vehicle to us for an inspection? Let's check your vehicle thoroughly and perform engine rebuild, ensuring that previous qualities of your engine are restored perfectly.
Brake & Clutch Repairs Noble Park:
Unless you have a thorough understanding of your vehicle, it is very difficult to diagnose a problem with the brake and clutch system. Our experts can run a quick check on your vehicle to determine the issue and provide reliable brake & clutch repairs, making your car safe to use again.
Car Exhaust Repairs Noble Park:
Damaged exhausts can affect the performance of your vehicle and break environmental regulations by creating extensive noise and releasing harmful smoke. Our qualified auto mechanic can assess the nature of the problem and provide car exhaust repairs and replacement services.
Aircon Regas & Repairs Noble Park:
At Buraq Automotive, we can carry out aircon repairs, diagnostic and aircon regas to the highest industry standard. With the right equipment and expertise, we can get your car air conditioning back to its perfect working condition.
If your vehicle has developed any problem, let our highly-trained mechanics have a look at it. To schedule an appointment, Buraq Automotive invite you to contact us on 03 9792 9803.