Whether you need your car brakes serviced, battery replaced, oil changed or any other car repairs, Buraq Automotive is here to help you. From scheduled maintenance to unforeseen breakdown, our skilled car mechanics have been offering a comprehensive range of car service to the vehicle owners across Keysborough and the surrounding suburbs.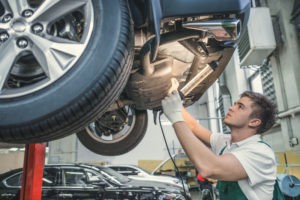 We Can Help You With:
Car Repairs & Logbook Service Keysborough:
As an accredited automotive repair shop, we are qualified to provide logbook service for all makes and models of domestic and foreign vehicles. Our car mechanics are factory-trained, so they will carry out car repairs and maintenance works as per your manufacturer's guidelines.
Engine Rebuild Keysborough:
Your vehicle's engine may lose its efficiency over time, leading to serious malfunctions and engine failure. With our engine rebuild and reconditioning service, you can give many years of life to your vehicle.
Brake & Clutch Repairs Keysborough:
To ensure your safety on the road, it is important to have your brakes and clutches inspected at least once a year. At Buraq Automotive, we offer brake & clutch repairs that are carried out to the highest industry standard.
Car Exhaust Repairs Keysborough:
When your car's exhaust system shows any sign of deterioration such as strange noise and excessive smoke, it is best to bring in your car to our auto repair shop for car exhaust repairs or replacement.
Aircon Regas & Repairs Keysborough:
In order for your car air conditioning unit to run efficiently, it is important to regas it annually. In addition, you should also clean it on a regular basis to remove unpleasant odours and make your interior smelling fresh and clean. Our aircon regas and repairs are aimed at making your A/C unit work efficiently and helping you travel comfortably.
If you have any question on the services offered, please don't hesitate to call us on 03 9792 9803. Buraq Automotive will be happy to assist you.